Cursive Handwriting Practice
Cursive Handwriting Worksheets. Uppercase and lowercase script practice. Write complete words in cursive handwriting. Caligraphy worksheets. Alphabet Tracing. Majuscules and Minuscules. Handwriting practice.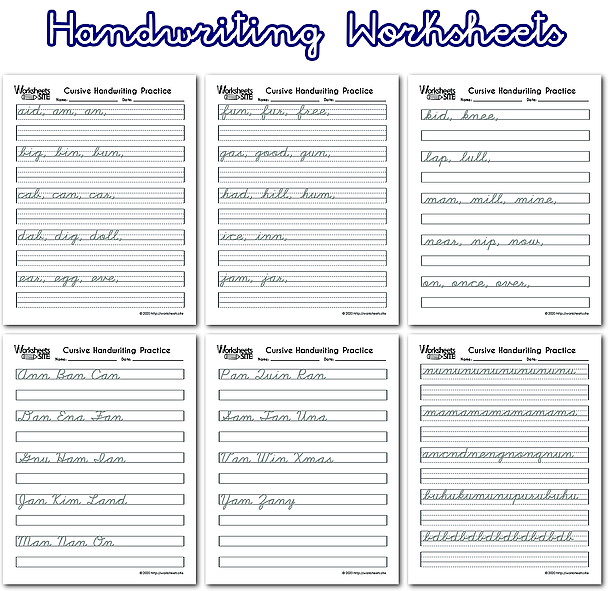 Use the password worksheets.site to open the PDF file.
Handwriting is a functional thing, intended for communicating and recording thought. It is to be read, and therefore legibility is an essential virtue. By also expressing personality it has a value that is appreciated by everybody.
How worth-while when handwriting interests the writer and pleases the reader. How satisfying when something ordinary and commonplace is raised towards the beautiful. Just as speech can be a delightful vehicle of words and thoughts, so too can handwriting; and so language is served.
The worksheets contain:
Numerous short words in English that can be used conveniently in the early stages of learning to later make more complex words. It contains 3 o 4 short words for each starting letter of the alphabet in lowercase.
It contains 2 pages of capital letter practice with selected short names.
Exercises or drills in contrasting movements which would help to develop the ability to switch from clockwise to counter-clockwise movements.
Several words in English which make good exercises in the contrasting movements.
In addition to the clockwise and counter-clockwise letters are the angular letters v, w, and y. Drills to embrace these letters are included.
To make v distinct from r when writing quickly may present some difficulty, and therefore a line is included as a drill to teach the distinctive movements.
This download contains the booklet

with all of the worksheets needed to learn and practice cursive writing.