Disney Alphabet Coloring Sheets
Complete Disney Alphabet with all the letters. Coloring letters. Drawings of letters to print and color. Disney Coloring Pages for children. Coloring Alphabet. Letters A, B, C, D, E, F, G, H, I, J, K, L, M, N, O, P, Q, R, S, T, U, V, W, X, Y, Z.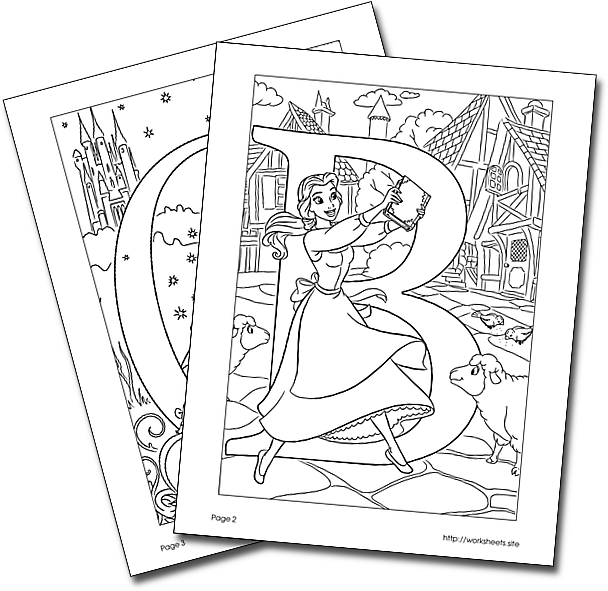 Fine motor skills are those skills that allow you to develop the ability to do things like write and manipulate small objects. There are many activities you can do with your children to improve their fine and gross motor skills. Most people don't realize how these abilities can affect a child. The development of fine and gross motor skills allows them to perform better in academic and physical domains.
Preschool children can benefit from experiences that support the development of fine motor skills in their hands and fingers. Children will need to have strength and dexterity in their hands and fingers so that they can manipulate a pencil on paper.
Coloring benefits include opportunities to promote an ideal pencil grip, increase grip strength, increase endurance for pen and paper / writing activities, and promote visual perception. Children can be encouraged to color within limits, as well as move the pencil in a variety of directions (side to side, up and down, circular). Success with these skills can have a positive effect on handwriting skills.
Learn the alphabet as you color with our printable sheets

and color each letter. There is one for each of the letters of the alphabet with a famous character from cartoons and Disney movies, such as The Little Mermaid, Beauty and the Beast, Cinderella, Dumbo, The Hunchback of Notre-Dame (Esmeralda), Bambi, Aladdin, Hercules, The Lady and the Tramp, Mickey Mouse, Finding Nemo, Pinocchio, Up, The Lion King, and Toy Story. This coloring booklet has been the most successful with our children. Use different colors to paint them according to your personality. Coloring the letters is a good way to introduce young children to the letters of the alphabet in the English language through an activity that they enjoy. It doesn't matter if they can't read it yet, they can still color the shapes and gradually become familiar with the letters and words, this helps with future learning.
After coloring them, you can decorate the classroom walls with them. This helps children take pride in their achievement and encourages their interest in letters and the entire alphabet. We hope you have fun with them! Use the password worksheets.site to open the file. You can download it to your computer and print it for free, but redistribution is not allowed.