Finger Painting Sheets
30 sheets for finger painting in preschool. Finger painting practice. Exercises to improve the graphomotricity of children. Hand-eye exercises for kindergarten. Printable Graphomotricity. Good handwriting prepartion exercises. Motor skills practice for preschool.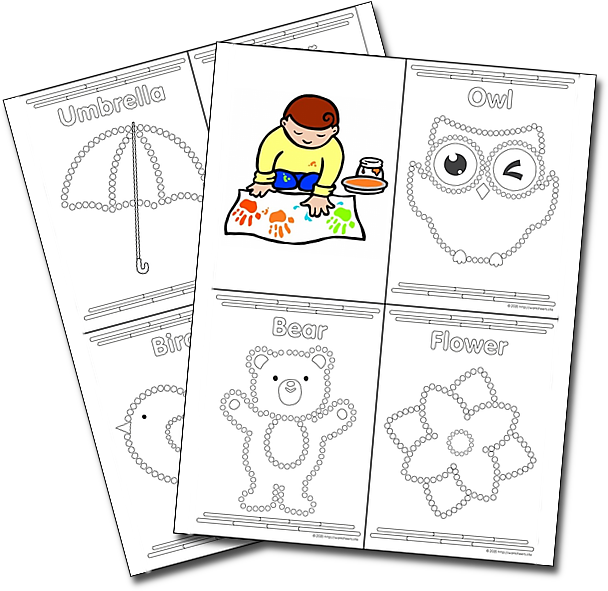 Fingerpainting is a useful technique to introduce boys and girls to painting with liquid paints; it also helps development visomotor coordination "eye-hand coordination", and of fine motor skills.
Children who practice it become more skilled with their hands and bodies in general (see below) and with the expressing themselves artistically.
Finger painting promotes the training of the hand for graphic expression.
Finger painting is also an excellent means of reducing artistic inhibitions, facilitating the best expression of children's personality. Its use involves a variety of visual, tactile and kinesthetic sensations.
Some attitudes of children toward fingerprint painting are:
Resistance at first to get your fingers dirty.
They perform rhythmic movements with the whole hand, spreading the painting beyond the edges of the sheet.
With great caution they take a painting with one finger.
Before working with the paint they smell it, look at it, touch it and then make some strokes.
Fingerprint painting should be seen as a pleasurable activity and not so much as a art class.
You can do finger painting with:
handmade paste
mud
plastic glue
thickened tempera with flour
thickened tempera with grated common soap
and many more, you just have to experiment
Ways to use the paint:
with the hand palms
fingertips
nails
knuckles
elbows
forearms
feet
1. Instructions
Let the kids select their favorite picture. The download contains a 20 page PDF . Use the password worksheets.site to open the PDF file.
Put a little paint on the sheet of paper and spread with your fingers in the desired directions.
Enjoy and experience the sensation of creating, you can invent a thousand wonderful things with your hands and fingers.
Combine the colors you want and you will get beautiful results.
2. Preparation
Before the activity, prepare the place where the children are going to be cleaned after playing with the paint.
Let the finished works dry horizontally.