Paint Mosaics by copying Patterns
Image composition with color dots. Mosaic Composition dot templates. Mosaics for coloring. 10 Printable Sheets of thematic Mosaics for children. Coloring sheets for children and adults to complete by copying patterns of dots. Activities to practice focus and concentration.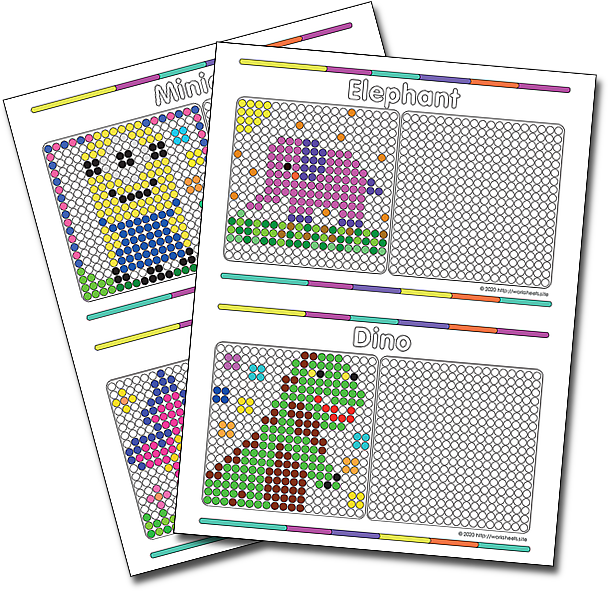 Visual perception is one of the most important prerequisites for effectively learning to read, write, and calculate. Children who train and strengthen their ability to perceive accurately will have fewer problems in the areas of school performance.
Dot mosaic composition is an activity that improves the learning of shapes, colors, orientation in space, objects counting and coordination of children's eyes and hands. On the left side of the sheet there is the pattern of the image formed by small circles, while on the right side the mosaic is empty for the students to color, identifying colors and counting spaces and dots.
The activity helps strengthen the detection of space-positional relationships, basic figure perception, visual differentiation, hand-eye coordination, orientation in space, consistency, and concentration.
Coloring is not only fun for children. Grown ups can benefit from this simple practice too. Coloring is an activity that we always relate to children. Most of us remember it as a fun activity in which you can be creative and playful. But as we grow, we decide that we are too old to continue coloring and that the only adults who should do this kind of thing are graphic artists. However, coloring can have other goals in maturity:
Coloring to practice concentration.
Coloring as a form of therapy.
Coloring reduces stress and anxiety.
Coloring helps manage problems with insomnia.
Coloring to relax.
Use the link to download the PDF

to print the 10 pages each with a different mosaic design so that the children can reproduce them them and have fun with their coloring pencils, crayons, or watercolors. You can download it to your computer and print it for classroom use, but it cannot be redistributed on social media. Use the password worksheets.site to open the PDF file.