Letter Coloring Pages for Adults
Complete Set of Letters for Coloring. Letter Coloring Pages with intricate patters and flowery backgrounds for adults. Mandala Letter coloring pags. Pictures of letters to print and color. Coloring Sheets for Adults. Coloring Alphabet. Letters A, B, C, D, E, F, G, H, I, J, K, L, M, N, O, P, Q, R, S, T, U, V, W, X, Y, Z.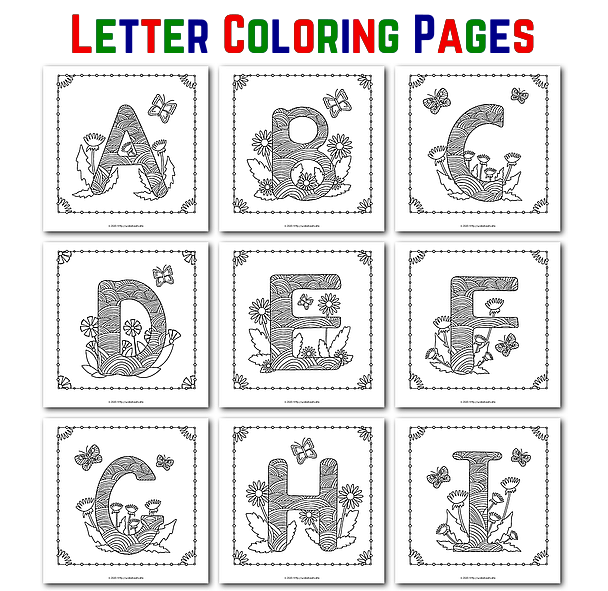 Coloring is not only good for children, you may be interested to know that adults can benefit from this simple practice, too.
Coloring is an activity that we usually associate with children. Most of us remember it as a fun activity when you can be as creative as possible, using all the available colors. But as we get older, we decide that we are too old to keep coloring and that the only adults who should do this kind of thing are graphic artists.
These ideas are beginning to change, a new trend for adult coloring books has emerged, with slightly more sophisticated themes than the typical prairie animals, objects and cartoons that we see in children's books. The good news is that this trend, unlike many others, is great for your health, especially since it is an incredibly good way to relieve stress, something that is important for anyone.
According to psychologist Gloria Martinez Ayala, the action of coloring involves both logic and creativity. When we use logic to pick up a color for a particular shape or pattern, we activate the analytical part of the brain. On the other hand, when we choose to mix and match colors, we activate the creative side of the brain. This helps incorporate both areas of the cerebral cortex which control vision and help with coordination and fine motor skills.
Use this link

to download the PDF to print the 26 pages each with an uppercase letter that can be colored to your liking, either with coloring pencils, crayons, watercolor, or your preferred technique. Use the password worksheets.site to open the file. You can download it to your computer and print it for free, but redistribution is not allowed.