Sumcheesi, a free Parcheesi game to learn Addition
Math Parcheesi game. Parcheesi for sums. Ludo for sums. Math games. Games to practice sums.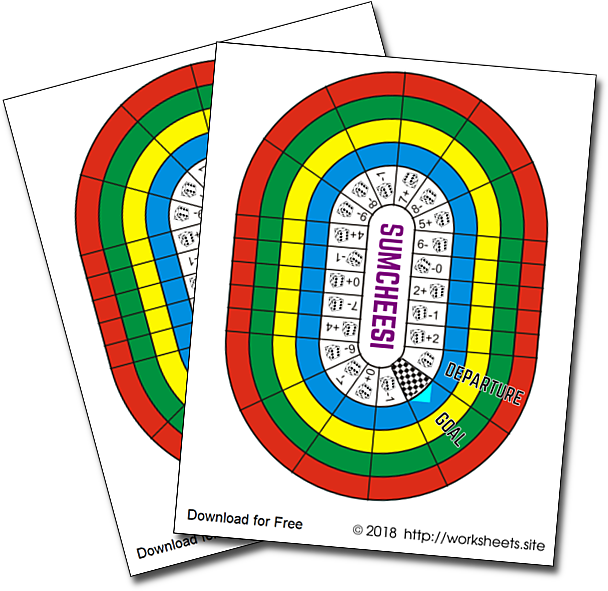 1. Introduction
This didactic material allows you to practice mental additions and subtractions since Early Childhood Education using a normal six-sided die like in the original Parcheesi game. It can be printed on a single letter sized sheet of paper, or in 2 sheets if you want to have more freedom of movement.
While designing this material, attention was put into making sure the operations can not give negative results.
2. Suggested Student Level
Early Childhood Education (1st grade or 2nd grade)
3. Concepts, Procedures and Attitudes
Recognition of numbers.
Count points on the die.
Basic sums (mental).
Basic subtractions (mental).
Follow the rules of the game.
4. Material Needed for Construction
Printable Parcheesi board game . Use the password worksheets.site to open the PDF file.
Plastic cover
Scissors
Marker pens, coloring pencils
Base cardboard for the cutter - Ruler
5. Other Alternative Materials
Foam Board
Binder cardboard
Wood plank
6. Instructions for use
The game is for one to four players.
Pawns are placed at the departure line, each pawn in the place corresponding to its color.
The die is rolled in turn.
To start the game players move they pawn as many steps as marked on the die.
After that, when the die is rolled, the corresponding addition or subtraction must be performed and players advance what comes out as the result of that addition or subtraction.
The winner is whoever manages to cross the finish line first.